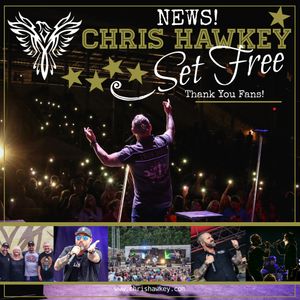 Hello All -  
Let's start by pimping the THREE shows on the docket for December.   
Pioneer Place in St Cloud 12/27. A storytellers, acoustic 1 Mic 1 Take show.  Just Tony Williams and I playing my songs in their rawest forms with a few special covers thrown in.  
Le Musique Room in St. Michael 12/28. Same show, different venue with a couple other special covers thrown in for those of you who choose to attend Both Shows.  
Grand Casino Hinckley NEW YEARS EVE. The knockdown, drag out final show of the year.  Originals, covers, lights, cameras, and all of the action to say goodbye to 2019 and Hello to 2020.  This has been one of the best parties anywhere EVERY YEAR and I can't WAIT to do this again.  Please come and party with us and witness Tony William's final CHB show.  
Football season is almost half over and the Holidays have begun.  It's truly unreal how quickly time flies by.  This morning I find myself looking back at the spring, summer, and fall of 2019 and I can't help but smile.  We played WAY more shows than we had planned to, but that happened because the offers kept coming in and the shows were too good to decline.  And I'm so glad we didn't decline them.  The memories flash before me as I sit here, too numerous to mention in one small blog.  I'll simply say Thank You.  Thank You for being there.  For being a part of it all.  For making it happen.  For experiencing the moments with me and the CHB family.   
2020 is just around the corner and will be a year of change.  I'm finally having my knee replaced in January and that will put me on the shelf, as far as the band goes, until about April. When the band returns, we will be without Alex Kiel and Tony Williams. Both are leaving to pursue their own personal projects.  I'm grateful beyond words to both of them for all they have given me and all that we have experienced together. They each leave on the very best of terms and I hope you will each support their future as you have supported us in the past.   
So what does that mean for the CHB? We will continue. The ideas are flowing and I'm excited to unveil the future once my recovery is completed. I'm expecting to play fewer shows in 2020, but the quality of those shows should be even higher than before.   
I'm also in the process of recording a hard rock record. Those who saw the band at Grand Casino for Rocktember heard the first of those songs, 'Long Way Home'. I've wanted to record music like this since I was a teenager and I'm excited to finally get that done. Two songs are finished, and the rest will be completed as I recover from my surgery. I'm planning on putting together a band to support that music with live shows. Maybe only 5-10 shows, but that excites me as well.  I hope you'll come out and watch me bang my head! More info to come on that as Sarah Jane and I are literally putting it together as we go. It's fun to start from scratch again.   
Lastly, Tony Williams and I will be doing sporadic 1 Mic 1 Take shows throughout the spring, summer, and fall. I love doing those types of shows. It's fun to tell the stories and sing the songs in the way that they were written.   
So, as you can see, there is a lot to be done during this down time. I'm hoping that absence makes your heart grow fonder. Basically, I'm hoping you miss us.  I already miss you.   
But I'll be back!  
Thank You!  
Chris