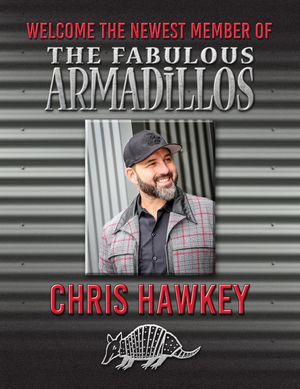 I am honored to announce that I will be joining the Fabulous Armadillos Party Band! 
If you've never had the chance to see a 'Dillos' show, they are truly one of the most talented groups of musicians and singers in the nation. My greatest hope is that I have the talent to continue adding to their great legacy. I'm truly looking forward to the challenge of singing some of the greatest songs ever written with individuals that consistently perform at a high level. 
The opportunity to be a part of this fantastic group has come along at the perfect time as I had been planning to take a break from the Chris Hawkey Band (CHB), but still feel a strong desire to sing on stage. No, the Chris Hawkey Band is not going away permanently. But the summer of 2021 will be the year of the Armadillos! This is going to be a blast! I cannot wait to see your faces again. 
Let's Have A Party!
Chris Hawkey