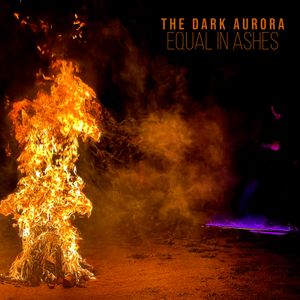 The day has finally arrived.  I'm very excited to introduce to you the first EP release from The Dark Aurora, Equal In Ashes.  This project began more than a year ago during a lunch with Matt Kirkwold and Ian Combs.  It reaches it's first finish line today with the release of our debut collection of Heavy Rock.  This band and these songs represent the fulfillment of a dream for me.  I have long wanted to write and perform music this aggressive.  Joining forces with Matt and Ian, and eventually Gary Pahl and Chris Morley, led to fertile creative ground and this collection of songs.  I hope you'll give it a listen.  It was created to be played loud.   
Also, please pay attention to the lyrics.  We wrestled with them for months trying to communicate what we thought needed to be said.  We've already begun work on our next batch of songs and plan to play shows throughout 2022 and beyond.  I also hope to see your faces in the crowd singing along to these songs with your fists in the air. 
Thanks for continuing to join me on my musical journey. 
Please catch The Dark Aurora opening for Cold Kingdom this Friday, March 25 in Mankato.  You can get tickets here: 
Chris Hawkey 
3-22-22